Improv Comedy
Workshops
Prescott, AZ
July 24 – 25, 2021
Irreverent Improv is excited to come to Prescott the weekend of July 24-25 to teach workshops to all levels of actors and improvisers and conclude the weekend with a fun performance.
Workshops for All Levels!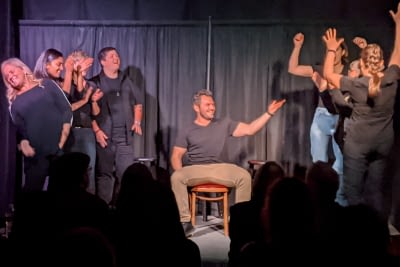 for Improvisers
Improvisers with at least some basic training can take a track of one to five workshops to learn several tools to have fun performing in groups and with friends. You will also get to perform!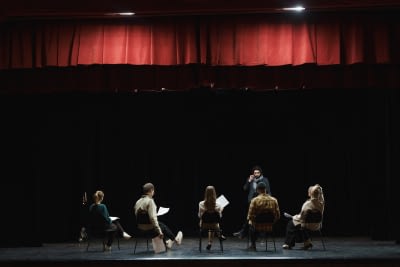 for Actors
Actors interested in using improv tools to enhance their stage presence and audition skills can take a group of one to three workshops to connect on stage and level up their spontaneity in auditions.
for Beginners
If you are brand new to improv and want to experience what it's all about, we have a special workshop just for you with special pricing, and it includes admission to the show following the workshop.
Short Form 'Expert Games'
(for improvisers)
Look Brilliant with Guessing Games
(for improvisers)
Discover the Fun & Joy of Improv!
(for beginners)
Rehearsal and Show Creation
(for workshop attendees who wish to perform in the show – no extra cost)
Included for those who perform in the show.
An Evening With
The F.B.I.
$40
Best if you are short on time, but still want to have fun.
Get a taste of Irreverent Improv-style workshops
$70
Save $10 off single workshop pricing
$90
$85 if you book by July 17.
Best for Actors taking the three Saturday workshops
Save $30 off single workshop pricing.
$100
$95 if you book by July 17.
Save $60 off single workshop pricing.
$110
$100 if you book by July 17, 2021
Best option for taking the full string of 5 classes before the show.
Save $90 off the single workshop price
$20
Get a ticket to the show with the price of the workshop.
50% off of the regular workshop price.
$5
Admission to a fast-paced, fun night of improvised comedy.
Jeff is the founder and artistic director of American Improv Theatre in San Jose, California. He was also one of the founding members of Comedy Sportz in San Jose. He has trained in improv, theater, and writing from several institutions, including iO West, the Groundlings, UCLA, and others. He was also closely mentored by Jonathan Winters and Del Close. He has over three decades of experience performing improv and loves performing and teaching improv around the world.
Jeff Ringgold
Chris, the founder of Irreverent Improv, is a Prescott native currently based in Southern California. He trained in improv, clowning, and physical theater at several places, including Second City, Annoyance Theater, iO, and One Group Mind in Chicago and has been performing with several improv teams in Chicago and California ever since. He is truly thankful that he now has the opportunity to teach and perform nationally and internationally. He is especially excited to return to Prescott!
Chris Shurland
Location & Contact Info
All workshops and the show will be held at the historic Elks Theater and Performing Arts Center in affiliation with Mile High Comedy Theater.
If you have any questions, please call, email or fill out the form below and we will get back to you as soon as possible.
117 East Gurley Street, Prescott, AZ 86301
Irreverent Improv: 805-364-2319
prescott.workshops@i2improv.com